Banknote of 2022 Nominations
Nominations Closed 31st January 2023
The International Bank Note Society (IBNS) announces that its voting membership has for the first time selected the Philippines Central Bank to receive its annual prestigious "Bank Note of the Year Award" for 2022. With nearly 100 new banknotes released worldwide during 2022, only 19 were deemed of sufficiently new design to be member nominated. From the onset of voting the Philippines 1000 Piso note was the overwhelming favorite. Close runners-up were Northern Ireland's (Ulster Bank) 50 Pound bill which features flora/fauna/workers and Scotland's (Bank of Scotland) 100 Pound note which features Sir Walter Scott and Dr. Flora Murray. Rounding out the top six vote getters were Algeria's 2000 Dinar (martyr's memorial with minaret), the Barbados 50 Dollar (former prime minister Errol Barrow) and Egypt's 10 Pound (mosque with pyramid and ancient queen) banknotes. All six continue the popular polymer trend in banknote printing.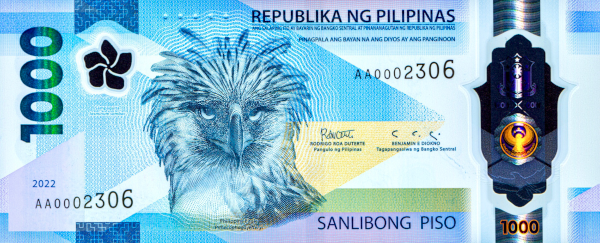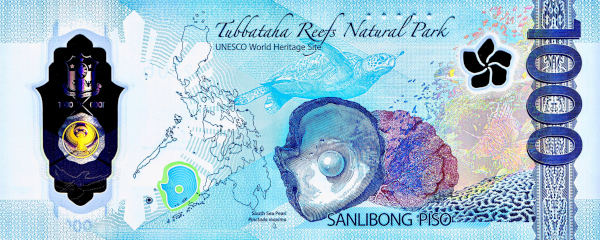 The Philippines Central Bank "Award winning banknote" was printed by the Reserve Bank of Australia and its wholly-owned subsidiary Note Printing Australia. Polymer represents a dramatic shift from the cotton and abaca material previously used. The face of the note features two Philippines symbols, the critically endangered Philippine eagle and the holographic Sampaguita, national flower of the country. The back design of the note is unchanged from the previous 1000 Piso issue which features Tubbataha Reefs Natural Park (UNESCO World Heritage Site), country map, and South Sea pearl. Descendants of the three World War II heroes previously on the face of the note were so opposed to the design change that the Central Bank will continue to print both varieties of the 1000 Piso banknote for the time being. Polymer banknotes continue to be popular IBNS favorites and are now perennial award winners.
Winners of recent IBNS Banknote of the Year competitions are all miniature works of art that represent their nation's popular themes. These winners should help provide a superb template as other countries consider how they eventually design and promote their own new banknotes. The Philippines successful design in eye-pleasing blue combines an endangered species with an environmental motif. The 1000 Piso note is similar in width but slightly longer than U.S. greenbacks. The current exchange value of 1000 Piso (Pesos) is approximately 18 USD, 17 Euros or 15 British Pounds as of the date of this announcement.
---
A guide has been produced covering the Bank Note of 2022 nominations in great detail. Explore the visible security features of each of the notes; Iridescent inks, watermarks, security strips and holographic features, as well as the Ultraviolet features. 
Download a copy to learn more about the nominations.
 The nominations received so far for the Banknote of 2022 are listed below:
---