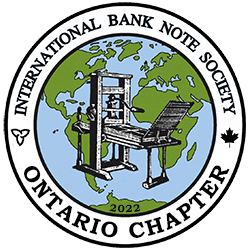 ** Ontario Chapter of the IBNS **

IBNS Chapter number 37
Established 11 March 2022
President: Brent Mackie
Email: ontariochapter@theibns.org
Secretary: Peter Becker
Email: pbecker1964-numismatist@yahoo.com
Directors:
Ken Brown
Jeff Wilson
Michael Zigler
Correspondence Address:
C/O Waterloo Coin Society
PO Box 40044
RPO Waterloo Square
WATERLOO, ON
CANADA N2J 4V1
Membership in the IBNS Ontario Chapter is FREE for any interested IBNS member. Chapter members will receive the Waterloo Coin Society Newsletter free of charge.
IBNS Ontario Chapter members enjoy FREE admission to the Cambridge Coin Show in March each year. Chapter members may also get $5 off their first year of membership dues in the Waterloo Coin Society.
Meeting Calendar - Third Thursdays Monthly
All monthly meetings are conducted online via Zoom on the third Thursday of every month and are open to guests. Send us an email for meeting details. Meetings generally consist of news and announcements, a topical show-and-tell session and social time. Guest speakers or special presentations may be offered from time to time.
| Date | Show and Tell Theme | Speaker | Topic |
| --- | --- | --- | --- |
| Mar. 16, 2023 | People Who Would Later Become Head of State |   |   |
| Apr. 20, 2023 | Despots / Pink | Michael Souza | Banknote Quiz #2 |
| May 18, 2023 | Nudes on Banknotes / Purple |  Peter Becker | Overprinted Notes |
| Jun. 15, 2023 | The Letter "Q" / Blue | Michael Souza | Banknote Quiz #3 |
| Jul. 20, 2023 | Postage Stamps on Banknotes / Yellow | Ken Brown | T.B.D. |
| Aug. 17, 2023 | Your Favourite Banknote Book / Black/Grey | Tom Sparks | Short Snorters and the Bissel Short Snorter |
| Sep. 21, 2023 | Music / Brown | Michael Souza | Composers on Banknotes |
| Oct. 19, 2023 | Error Notes / Orange | Bob Fritsch | Notgeld |
| Nov. 16, 2023 | Special Serial Numbers / Red | Michael Souza | Banknote Quiz #4 |
| Dec. 21, 2023 | Political Statements / Propaganda / Patriotism / Green |   |   |