Banknote of 2008
Samoa - 20 Tala note
After reviewing government banknote issues worldwide last year, the International Bank Note Society (IBNS) has selected their Banknote of the Year from among the many countries that issued new currency designs in 2008. This year, the International Bank Note Society's Board of Directors has chosen as the most attractive new issue of 2008, the Central Bank of Samoa's 20-tala note. Samoa's 20-tala banknote beat eight other banknotes nominated by IBNS members, two of which were also from the Pacific region.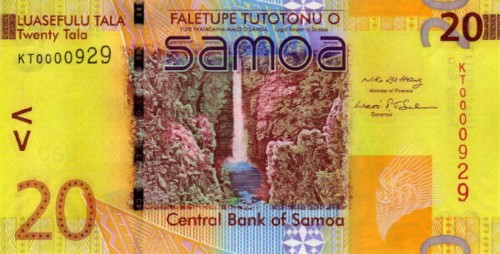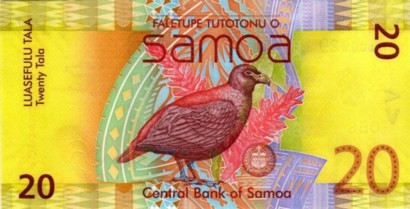 With striking, eye-catching yellow and gold colours and bold and innovative security devices, the 20-tala note easily eclipsed its competition in the views of the IBNS judges. The judges liked the Central Bank's emphasis on tourism, achieved by highlighting one of the nation's picturesque waterfalls—a refreshing departure from the standard practice of portraying famous persons on paper money. The reverse design was also praised for featuring Samoa's national bird, the Manumea, and the national flower, the Teuila; the two symbolizing the uniqueness of Samoa's natural environment.
Sharing the spotlight with the Central Bank of Samoa is the designer and printer of the banknote, UK-based De La Rue Currency, one of the world's foremost producers of paper money and securities. De La Rue's creative blend of state-of-the-art security features and design elements maintains its long tradition of superior banknote design and printing, significantly adding to the appeal of the 20-tala banknote, according to the IBNS Board.
The International Bank Note Society is proud to commend the Central Bank of Samoa and De La Rue for producing and issuing the Banknote of 2008.
---
---