Banknote of 2004
Bank of Canada - 20 Dollar note
The International Bank Note Society (IBNS) has announced their inaugural 'Bank Note of the Year'. The winning entry for 2005, for notes issued during 2004, is the Bank of Canada's 20-dollar note. Released in September 2004, this note has quickly become a favourite amongst collectors. The IBNS 'Bank Note of the Year' is awarded to a bank note issued during the preceding year and it is judged on artistic merit, design, and security features. There were ten nominations considered by the judges and the winning entry only just beat the new Faeroese 200-krone bank note.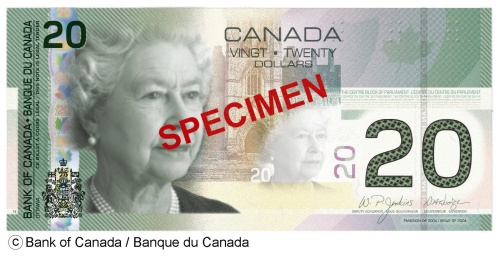 The 20-dollar note issued by the Bank of Canada carries a portrait of Queen Elizabeth II on the front of the note and artwork by Bill Reid on the back of the note. Reid's artwork is inspired by the Haida culture of the northwest coast of Canada. Notes bearing a portrait of Queen Elizabeth II are very popular amongst paper money collectors, with many specialist collections being built around the numerous portraits of Her Majesty that are used on world bank notes. The portrait used on the award-winning design of the 20-dollar note is probably the finest portrait of the mature monarch to appear on any bank note, and the quality of the portrait is one of the reasons the note was well regarded by the judges. Significantly, the 20-dollar note also carries the most modern security features, with an advanced holographic stripe, a high quality watermark, a colour-shifting security thread, and highly-developed fluorescent features, amongst other lesser features.
The runner-up for the Bank Note of 2004 was the 200-krone note issued in January 2004 by the Danmarks Nationalbank for the Faeroe Islands. This note joins an innovative and successful series of notes that depict various forms of animal life on the Faeroe Islands. The 200-krone note depicts a Ghost Moth printed in intaglio amongst blades of grass printed from a watercolour painted by Zacharias Heinesen. On the back of the note is a motif of Tindholmur near Vagar, which is also from a watercolour painted by Heinesen. The 200-krone note carries advanced security features, with a hologram, micro-printing and multiple security threads, one of which is a windowed colour-shifting thread.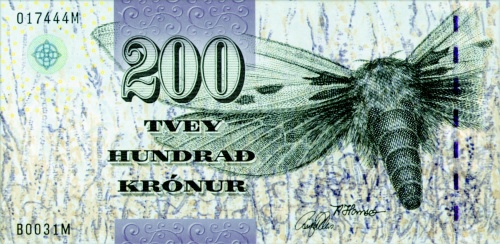 While the Canadian 20-dollar note was chosen for its well-balanced design, strong images, and advanced security features, it was the innovative design and artistic merit of the Faeroese note that saw it narrowly beaten into second place. The IBNS wishes to congratulate the Bank of Canada and the Danmarks Nationalbank for issuing these first-class bank notes, which continue a tradition fine art and progressive printing that have been evident in bank notes for hundreds of years.
---
---