IBNS Journal 57-3
is avaialble to download: Arcticles cover the work of John White, Suriname 25 Gulden Anton de Kom, Three ABNC Greek Banknotes, Italian WWII Prisoner's Coupons and PoW Cheques of WW1. Login to download your copy.
Table of Contents
8
2017 I.B.N.S. Book and Literary Awards
15
Postwar Bank Note Design: The Work of John White
35
Suriname 25 Gulden ; Anton De Kom February 22nd 1898 - April 24th 1945
39
Three ABNC Greek Banknotes With Handwritten Corrected Serial Numbers
42
Italian World War II Prisoners' Coupons
47
Book Review: Standard Catalogue of World Paper Money Volume III: Modern Issues (1961-Present) (24th Edition)
60
News From The Chapters
66
Data Protection and the I.B.N.S.
69
I.B.N.S. Board Meeting Minutes
69
Minutes of the Board Meeting, Kansas City, June 10 2018
71
I.B.N.S. Financial Report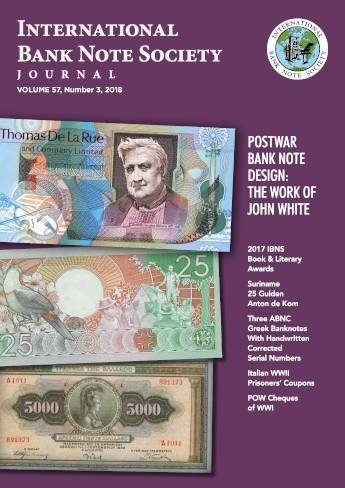 ---
---