Switzerland Repeat Winner of IBNS Bank Note of Year Award
The International Bank Note Society (IBNS) announces that its voting membership has selected the Swiss National Bank to again receive its prestigious "Bank Note of the Year Award" for 2017.  With over 170 new banknotes released worldwide during 2017, almost a third were of sufficiently new design to be eligible for nomination.  In the closest vote ever the Swiss 10 Franc polymer/hybrid note narrowly edged out  runners-up from the Royal Bank of Scotland (£10 with female scientist), Canada ($10 with 4 politicians and regions), Fiji (unique $7 featuring their first Olympic gold medal and rugby "7's" team), Norway (100 Kroner Viking long ship), and Djibouti (40 Franc whale shark). This is the fourth consecutive hybrid / polymer note to win the coveted IBNS Bank Note of the Year Award.
The Switzerland 10 Franc note is part of the first new design the Swiss National Bank has released in 20 years.  Printed by Orell Fussli Security Printing Ltd. in Zurich, all notes from the new 9th series feature national experiences and abstract themes.  Incorporating the latest in technological security standards and using three layer substrate Durasafe®, this gorgeous yellow vertical banknote depicts human hands conducting an orchestra with a globe showing time zones and the punctual Swiss rail system.  In 2017 a 20 Franc note was also released featuring a hand and a prism reflecting light.  While it too was nominated for Bank Note of the Year, IBNS rules state that no country can compete against itself if multiples notes are nominated.  In such instances a subcommittee selects the stronger image.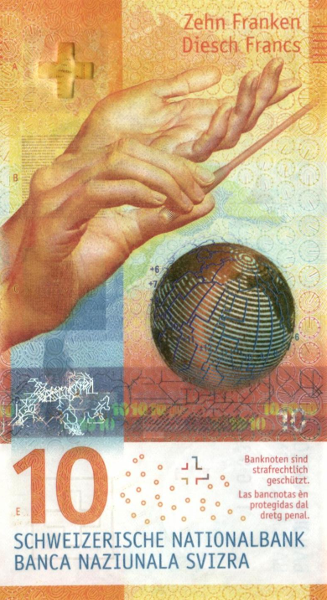 Front: Depicting Music and Time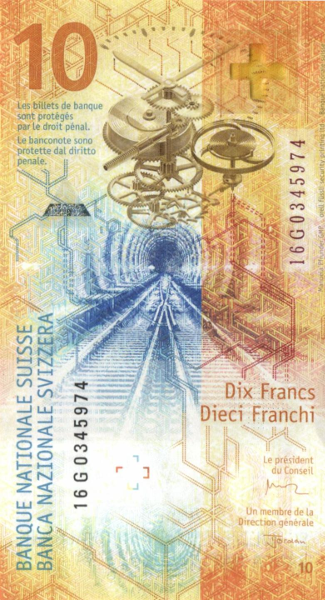 Reverse: Depicting Swiss Railways and Watch Movements
The Swiss National Bank had initially released a stunning 24 page booklet to promote their new six banknote series. They have a fascinating interactive website and downloadable application that can be accessed to further demonstrate various security features.  Each note varies in size, with the 10 Franc note similar in size to the 20 Euro banknote.  Valuation of the Swiss Franc is currently near par with the US Dollar but significantly below the Euro and British Pound
---
---