New Zealand Wins 2015 IBNS Banknote of the Year Award
The International Bank Note Society (IBNS) announces that its voting membership has selected the Reserve Bank of New Zealand to receive its prestigious "Bank Note of the Year Award" for 2015. With almost 150 new banknotes released worldwide during 2015, over 3 dozen were of sufficiently new design to be eligible for nomination. Whilst New Zealand 's $5 polymer note was a clear winner, runners-up in very tight voting were Sweden's 20 Kronor note depicting children's author Astrid Lindgren, Russia's 100 Ruble note illustrating Crimean landmarks, Kazakhstan's 20,000 Tenge note and Scotland's (Clydesdale Bank) 5 Pound polymer note.
From all significantly new designed and widely circulated banknotes released in 2015, the IBNS membership nominated notes from a record 20 countries to place on the ballot. Nominees represented four continents (Europe, Asia, South America, and Africa), 4 Middle East countries, and 4 island nations. Past "Bank Note of the Year" winners include Trinidad & Tobago (2014), Kazakhstan (2013, 2012, 2011), Uganda (2010), Bermuda (2009), Samoa (2008), Scotland (2007), Comoros (2006), Faeroe Islands (2005) and Canada (2004).
The Reserve Bank of New Zealand began releasing a new family of "Brighter Money" banknotes in 2015, beginning with the $5 and $10 denominations. Printed by the Canadian Bank Note Company in Ottawa, each stunning orange and brown $5 note displays a map of New Zealand in a gorgeous polymer window as well as numerous upgraded security features.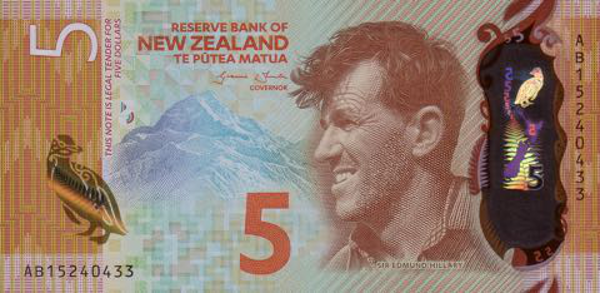 The face features legendary New Zealand mountain climber Sir Edmund Hillary and South Island's Mount Cook (Aoraki). A colour changing yellow-eyed (hoiho) penguin completes the face design.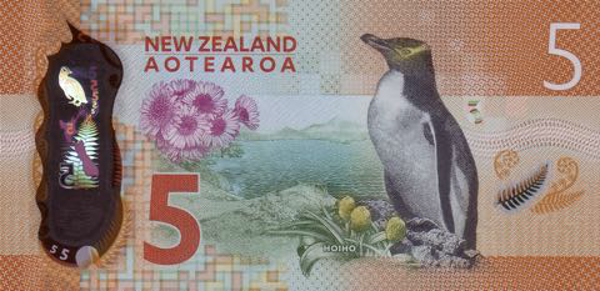 The back design again features this rare penguin unique to New Zealand as well as local flora. All brighter money notes will circulate with existing bills. The $5 is slightly smaller than U.S. banknotes but almost identical to the 20 Euro with a face value of approximately 3½ US Dollars, 3 Euros or 2½ British Pounds at early April exchange rates. Polymer banknotes are increasingly popular because of durability as well as enhanced security features and have become favoured by many collectors.
---
---