Banknote Collection Database
One of the IBNS Members - Nicolas Gogotsis (11545-R) - has created a Microsoft Access Database to catalogue his banknote collection that he has offered to share with IBNS Members which you can download from the IBNS Website. You will be asked to login to the IBNS Website to download the file, if you are not already logged in.
Please Note: the IBNS is not responsible for this application, and any queries, issues or suggestions should be directed towards Nicolas Gogotsis (11545-R) via the IBNS Forum.
A screen shot of the Database is below - click on the image to view full size in a new window. Beneath the image is a summary of the fields.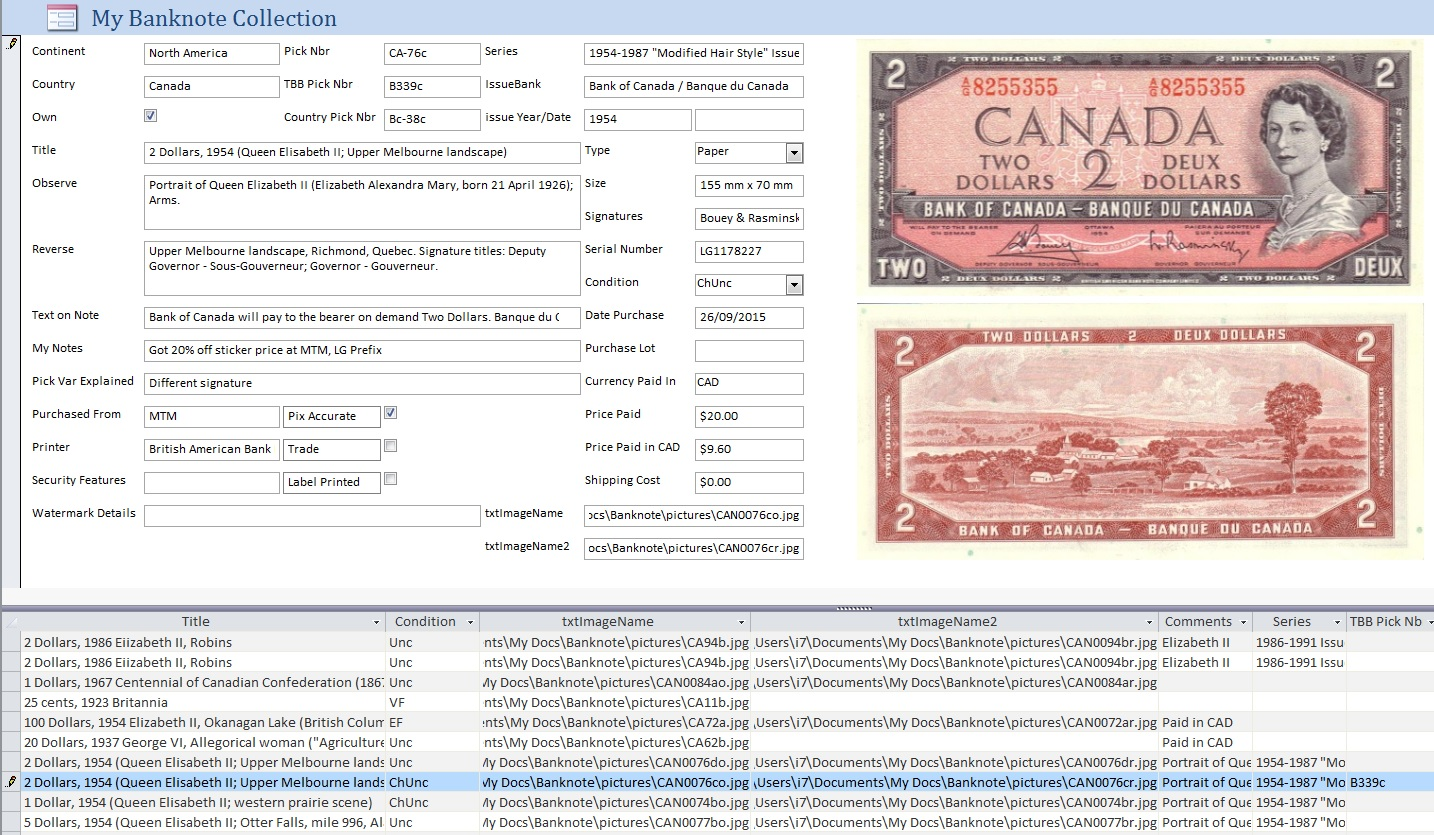 View Screen Shot in new window
| | |
| --- | --- |
| Field | Description |
| Continent | Self explanatory |
| Country | Self explanatory |
| Own | I put a check in this field when i have the note in my collection. This allows me to enter notes which i don't own into my database. |
| Title | A short description of the Note, i include denomination, year and brief explanation of what is on the note. |
| Observe | I enter details on the observe side of the note |
| Reserve | Same as above but for the reserve side. |
| Text on Note | I usually use this field when the note has other text such as "will pay to the bearer on demand, etc.." |
| My Notes | These are notes for me only (if i got this note as a gift, or something special) |
| Pick Variation explained | I used this field to explain why the note has a pick variation, such as new signature or new date for example. |
| Purchase From | Self Explanatory |
| Printer | Self Explanatory |
| Security Features | I use this to highlight the security features on the note. i.e. UV light stuff, watermarks, etc... |
| Watermark Details | I use this to explain what is on the note as a watermark. |
| Pix Accurate | I check this field when the picture i have of the note is the correct picture. For example i might put a picture of P76a, which this entry is for P76c. I uncheck this box once i find the correct picture. |
| Trade | This can be used to identify that the note comes from a trade or that you want to trade this not in the future. |
| Label Printed | I print little labels which i stick on my sleeves on each note, this is to tell me if i printed a label or not. Very use full when you have too many notes and get lost |
| Pick Number | I use the pick numbers from http://www.banknote.ws/ |
| TBB Pick Nbr | This field is for Owen's pick numbers for those interested |
| Country Pick Nbr | This is for the countries own pick numbers for example in canada all the reference books use a different pick number. I think France has different numbers too. |
| Series | I use the series name from http://www.banknote.ws/ |
| Issue Bank | Self Explanatory |
| Issue Year/Date | When i only have a date of issue i fill out the Year, when i have an exact date then i fill our the other box with the full date. |
| Type | Self Explanatory |
| Size | Self Explanatory |
| Signatures | Self Explanatory |
| Serial Number | Self Explanatory |
| Condition | Self Explanatory |
| Date Purchase | Self Explanatory |
| Purchase Lot | This field is more tricky. I use this field when i buy sets and i don't have an individual price per note. I invent a lot number which is unique in my db and i assign it to all the notes in that set. For for example if i buy 4 notes at 70$, i put 70$ as price paid for all the notes but use this purchase lot number to tell me that it's the price for more then one note. |
| Currency Paid In | The currency i paid my note in, almost always USD |
| Price Paid | In the currency mentioned above. |
| Price Paid in CAD | The price paid converted to Canadian. But this can be your own countries currency. |
| Shipping Cost | Self Explanatory |
| Txtimagename1 and 2 | The path of the pictures on my hard drive. |