IBNS Journal 54-3
is available to download and will soon be arriving by post. Transition Town Currencies in the UK, Mexican Revolutionary Paper Money, Printers Test Notes, and Nepalese Paper Money are all covered, along with many others. Login to download your copy.
Table of Contents
8
UK Transition Town Notes of 2015 - Exeter, Brixton, Bristol (and Stonehouse)
11
The Mexican Revolutionary Paper Money Issues of Chihuahua in 1914
16
The Facts on High Denomination British India Banknotes with Burma Overstamps
19
Printers' Test Notes - A Primer and Answers to the Questions You Never Asked
24
Understanding the Serial Number Sequences of the Banknotes of Arab Countries
27
China's Post-war Currency for Indochina Featuring Chinese Custom Gold Units
31
Green Point Track POW notes from the Anglo-Boer War of 1899-1902
37
Issues in Nepalese Paper Money: Will Nepal Rastra Bank Ever Address Them?
42
Book Review: Glimpses of Nepalese Paper Currency
43
Book Review: Viet-Nam - Coins & Papermoney - 2015 Reprint
44
Understanding Paper - the Basis of Almost All Banknotes
62
News from the Chapters
72
IBNS Board Meeting Minutes
72
Minutes of the Meeting of the IBNS Executive Board, June 20, 2015, Memphis
73
Minutes of the Meeting of the IBNS Annual General Meeting, June 20, 2015, Memphis
74
IBNS News and Annoucements
76
Society Officers and Directors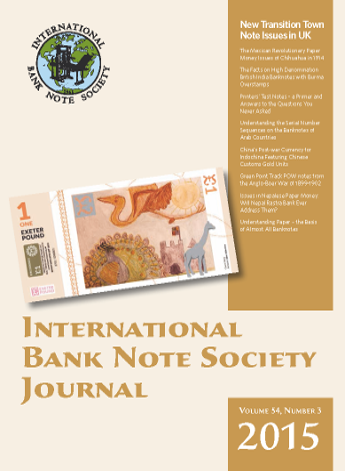 ---
---