The IBNS Book of the Year for 2012
(For a book published in 2011)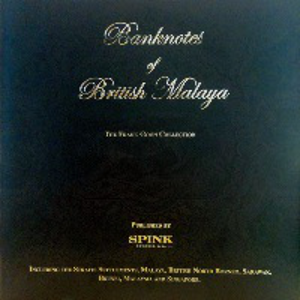 The International Bank Note Society (IBNS) has awarded its 2012 Book of the Year, for a book published in 2011, to Banknotes of British Malaya: The Frank Goon Collection by Frank Goon. The announcement was made at the Annual General Meeting of the IBNS in Memphis, Tennessee, USA in early June.
A celebration of a unique collection of banknotes, assembled over a period of 20 years by Mr. Frank Goon, a prominent Malaysian businessman. It is the most comprehensive collection of its type, spanning many eras of change within the lower area of South East Asia.
The collection includes many unique notes, never before seen in print; partially printed proofs, beautiful hand-executed essays, colour trials, specimens and issued notes, from the early private bank notes of 1856 to the present day.
This long-awaited celebration forms a lasting testament to this magnificent collection, as well as being an essential introduction to a new and exciting collectors market. This publication will become the benchmark and reference work for all old, new and future collectors of South East Asian banknotes.
Chapters:
• Private Banks of the Straits Settlements - Notes included from 1856 - 1903
• Private Issues of Malaya and Sabah - Notes included from 1878 - 1936
• The government of the Straits Settlements - Notes included from 1898 - 1935
• Sarawak - Notes included from 1861 - 1940
• British North Borneo - Notes included from 1884 - 1942
• Malaya - Notes included from 1939 - 1946
• Malaya and British Borneo - Notes included from 1953 - 1966
• Bank Negara Tanah Melayu - Notes included from 1962 - 1966
• Malaysia - Notes included from 1966
• Singapore - Notes included from 1967
• Brunei - Notes included from 1967
---
Banknotes of British Malaya: The Frank Goon Collection is available from the Spink Book Department. Price £95.00 + post and packaging