IBNS Grading Standards
Page 2 of 10
Grading Guide - Definition of Terms
Thank you Joel Shafer for the image scans. Joel cautions scans can be misleading as far as accurate grading is concerned (with either over or under grading, although a scan usually inflates the grade of a note).
---
UNCIRCULATED (UNC): A perfectly preserved note, never mishandled by the issuing authority, a bank teller, the public or a collector. Paper is clean and firm, without discoloration. Corners are sharp and square, without any evidence of rounding. (Rounded corners are often telltale sign of a cleaned or "doctored" note.) An uncirculated note will have its original natural sheen.
NOTE: Some note issues are most often available with slight evidence of counting folds (creases). Also, French-printed notes usually have a sight ripple in the paper. Many collectors and dealers often refer to such a note as AU-UNC.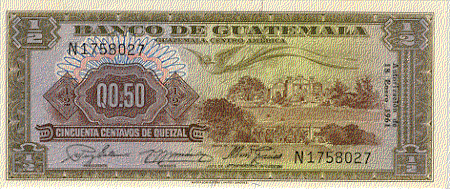 Example - UNCIRCULATED note
---