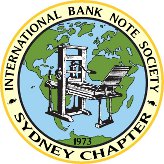 Sydney Chapter
Meetings are held on the fourth Thursday of the month at 6.00 p.m.
except for the December meeting, which is on the third Thursday of the month.
For information regarding meetings telephone
Tony James on (0401) 884 314 or
Bob Climpson on (02) 9223 4578.
Noble Numismatics
Ground Floor
169 Macquarie Street
Sydney
New South Wales
Telephone: (02)9223 4578
The Secretary
GPO Box 1398
Sydney NSW 2001
AUSTRALIA
---
2019 Programme
Although the Sydney Chapter usually meets on the fourth Thursday of the month, some meetings are on the second or third Thursdays due to Noble Auctions.
Sports & famous players on banknotes
Emergency issues & occupied countries of WW2 and election of office bearers
Great Britain including Channel Islands
Australia including pre-federation, pre-decimal & decimal
IBNS Australian Banknote Regional Convention, Goulburn, NSW
(See below for more details)
Cheques & Share certificate
Security features on banknotes
Castle Forts & Landmarks on banknotes
Aviation including aircraft & airports
IBNS Australian Banknote National Convention, Sydney. NSW
(See below for more details)
South America excluding Brasil & Argentina
---
---
2020 IBNS AUSTRALIAN BANKNOTE REGIONAL CONVENTION
CANBERRA, ACT. DETAILS TO BE ADVISED.

If you have enquiries about the convention, please contact:
---
2020 IBNS AUSTRALIAN BANKNOTE NATIONAL CONVENTION
Perth, WA - 21st & 22nd November
Metro Hotel Perth
61 Canning Hwy, South Perth, WA 6151
9 AM to 6 PM each day
Bourse from 4 PM each day

If you have enquiries about the convention, please contact:
---