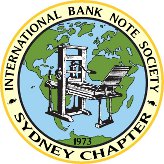 Sydney Chapter
Meetings are held on the second Sunday of the month at 11 AM.


For information regarding meetings contact Tony James
Telephone: 0401 884 314 or
Email: info@tonyjamesnoteworld.biz


Roseville RSL Club
64 Pacific Highway
ROSEVILLE NSW 2069
The Secretary
IBNS Sydney Chapter
PO Box 191
MAROUBRA NSW 2035
---
2023 Programme
**

SYDNEY CHAPTER PROGRAM FOR 2023

**

Date

Event

Theme of meeting

8th January

IBNS meeting

Your worst condition note / WeiHaiWei notes - P.Neumann

12th February

IBNS meeting

Scotland

12th March

IBNS meeting

Military equipment on banknotes

16th April (3rd Sunday)

IBNS meeting

Unusal denominations

20 & 21 May

IBNS Regional Conference
Goulburn

See below

18th June (3rd Sunday)

IBNS meeting

Animals on Banknotes

9th July

IBNS meeting

"Far South" Chile, Falkland Islands, South.Africa, New Zealand.

13th August

IBNS meeting

Your top five notes (personal favourites)

10th September

IBNS meeting

Concentration Camp Ghetto and POW Camp notes

8th October

IBNS meeting

Foreign exchange certificates / Notes / Circulating Cheques Letters of Credit

14/15 October

IBNS Australian National Convention

See below

12th November

IBNS Meeting

French Territories

10th December

IBNS Meeting and Year End Lunch/Dinner

Head-dress, Hats, Headwear bring /wear one!
---
---
---
IBNS AUSTRALIAN NATIONAL BANKNOTE CONVENTION
2023
PERTH, WA
14 and 15 October


If you have enquiries about the convention, please contact:
---