Banknote of 2012 - Press Release
KAZAKHSTAN REPEATS AS BEST BANKNOTE
Dr. Dennis J. Lutz (IBNS Life Member #211)
The International Bank Note Society (IBNS) announces that its voting membership has again selected the National Bank of Kazakhstan to receive its prestigious "Bank Note of the Year" Award for 2012. Facing stiff competition as always from nearly 100 new banknotes released worldwide in 2012, the 5000 Tenge denomination Kazakhstan note was followed in voting by the Canada 50 Dollar and Jersey 100 Pound currency bills.
Now in its 52nd year, the IBNS has over 2000 members worldwide. As a nonprofit educational organization its objectives are to promote, stimulate and advance the study, collection and dissemination of information related to paper money. From all significantly newly designed and widely circulated banknotes released in 2012, the IBNS membership nominated notes from 13 different countries to place on the ballot. Nominees represented four continents and ranged from Europe, Asia, Africa and the Middle East to North, South and Central America. Past "Bank Note of the Year" winners include Kazakhstan (2011), Uganda (2010), Bermuda (2009), Samoa (2008), Scotland (2007), Comoros (2006), Faeroe Islands (2005) and Canada (2004).
The 2012 winning banknote was designed collaboratively by De La Rue of England and the National Bank. The Banknote Factory of the National Bank of Kazakhstan undertook the printing. The 5000 Tenge bill has a face value of approximately 33 U.S. dollars or 25 euros or 22 British pounds at early-May 2013 exchange rates. The note was issued 30 December 2011 for circulation in 2012. Slightly narrower, but taller, than U.S. dollar bills, its size is almost identical to the 20 pound English and 50 Euro notes.
The stunning design, predominantly in vivid reddish-orange features the "Kazak Eli" monument with flying doves and panther in a vertical format on the face of the banknote. The horizontal format reverse side highlights a map of the country with mountains and the "Monument of Independence" with the Kazakhstan Hotel in the former capital city of Almaty. A full color image of this and other nominated banknotes are on the IBNS website.
The IBNS is open to membership from interested persons in any country. Details concerning all IBNS activities are available at www.theibns.org.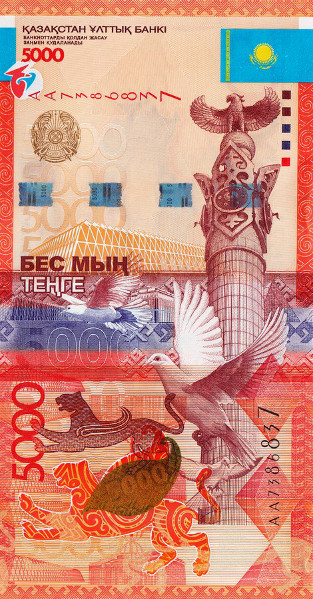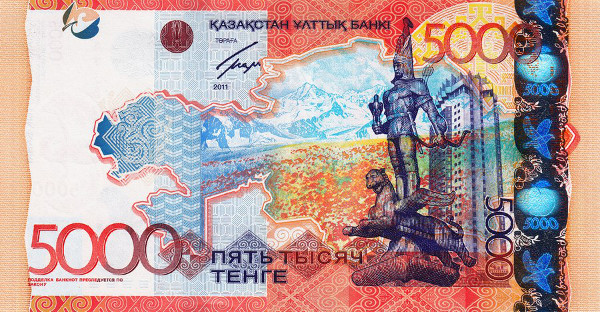 ---
---