IBNS Journal 52-1
The first Journal of 2013 (Volume 52 Issue 1) is now available from the website and will be posted to members soon. Topics covered in this issue include: Iranian Banknotes, Latin American Banknotes and Bank names in the Middle East and many others. Login to download your copy.
Table of Contents
2
Society Officers and Directors
10
Embodying the State: Iranian Banknotes During the Pahlavi Era
15
Replacement Banknotes in Finland: the Quest for More Efficiency in Note Printing
24
Where are the Millions of Rosenberg Rubles Made for Wartime Use by Germany?
30
Leave Centers of the British Commonwealth Occupation Forces in Japan
34
Coins and Medals Depicted on the Paper Money of Latin America
40
The Bad and the Good in the Long Reign of Omar Bongo over Independent Gabon
42
The Evolution of Bank Names on the Banknotes of the Near East
46
Paper Money Issues of the Short-lived Democratic Republic of Georgia
64
News From The Chapters
71
ANA Seminar to Teach How to Detect Counterfeit World Paper Money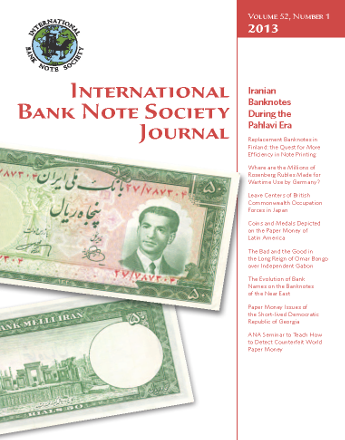 ---
---