Banknote of 2010 - Press Release
Bank of Uganda - 50,000 shilling note
The International Bank Note Society's (IBNS) 'Banknote of 2010' is Uganda's 50,000-shilling note. This year, for the first time, the award was decided by a popular vote by members of the IBNS, rather than by a committee, and the award shows a strong appreciation of the 50,000-shilling note among a large community of banknote enthusiasts. From thirteen nominations, voting indicated a strong preference for the Ugandan note from the time voting was made available to members on the IBNS web site (www.theIBNS.org) in mid February.
The highest denomination in a series of six notes introduced in May 2010, the 50,000-shilling note has strong design elements consistent with the series. These elements include the watermark of the head of a crested crane, an outline of a map of Uganda (highlighting the equator), the profile of man wearing Karimojong head dress, patterns based on indigenous basket work and, at the far right on the back, the Independence Monument. Erected to celebrate Ugandan independence in October 1962, the statue is of a woman wrapped in bonds lifting a child above her head, celebrating the birth of the nation.
On the front of the award-winning note the 'Stride Monument' is at the left, the Bwindi tropical rain forest is illustrated at the centre left, a foil strip with the denomination and images of shields at centre right and an area for the watermark at the far right. The Stride Monument was erected to celebrate the Commonwealth Heads of Government Meeting held in Kampala in 2007. Depicting a husband, wife and son stepping forward, the monument symbolizes the countries of the Commonwealth progressing as a family.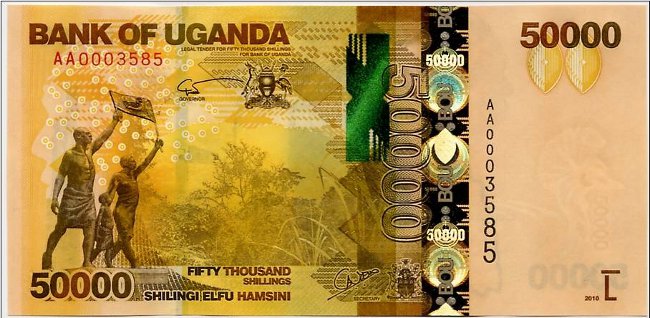 The back of the note is dominated by illustrations of silver back mountain gorillas and undoubtedly these amazing animals attract people to the notes and their depiction is one of the reasons the 50,000-shilling note was so popular amongst the IBNS members voting for the award. Apart from the gorillas, there is much which is attractive about the note, such as the good use of colour – particularly the brown, which might have made the note appear dull if used inappropriately, and the golden highlights which capture attention. Strong images, well depicted, add to the quality design of the note and good use of security features for a high-denomination note enhances the overall effect.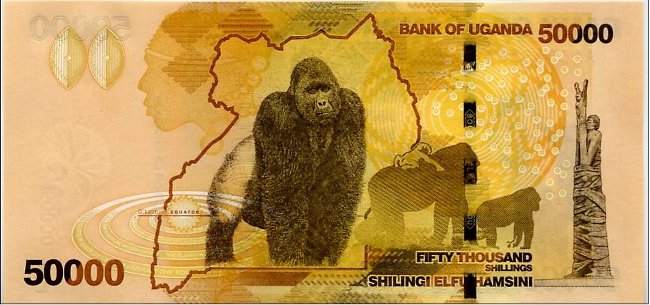 Printed by British security printers De La Rue, the note was designed in co-operation with the Bank of Uganda. This successful collaboration has seen an impressive series of banknotes introduced to Uganda and it has produced the award-winning note in the competition for the IBNS Banknote of 2010. The IBNS congratulates the Bank of Uganda and De La Rue for its achievement.
---
---