The IBNS Book of the Year for 2009
(For a book published in 2008)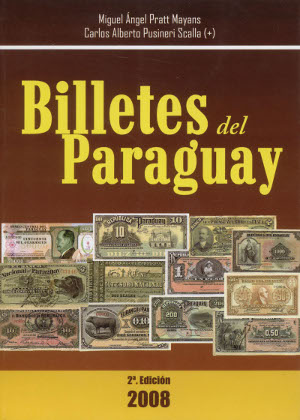 The International Bank Note Society has named as its 'Book of the Year' for 2008 Billetes del Paraguay by Miguel Ángel Pratt Mayans and Carlos Alberto Pusineri Scalla. The book is the long-overdue update of Paraguay Paper Money produced by the same authors in 1990.
Written in Spanish, yet relatively easy to follow for non-Spanish speakers, it provides a comprehensive listing of the quite complex series of Paraguayan banknotes from 1851 until 2007. For modern note collectors, it offers guidance to the myriad combinations of printers and signatures of recent issues under the law of June, 1995.
Commenting on the award, IBNS President Peter Symes noted Billetes del Paraguay "highlights the rich variety of paper money books available around the world, which are often unfamiliar to collectors in English-speaking countries. It is yet another example of the depth of information found in regional catalogues."
The catalogue is illustrated in colour and includes much information on the many Paraguayan notes. Pricing in US dollars for three grades of condition is suggested for most issues. The book also provides a listing of the specimen notes issued by Paraguay. Billetes del Paraguay is priced at US$25, plus postage, and is available from the authors at 14 de Mayo 221, Asunción, Paraguay or through www.nisa.com.py
Receiving an honorable mention in the Book of the Year Award was Mikhail Istomin's Catalog of Banknotes of the Civil War in Russia.