Banknote of 2009
Bermuda Monetary Authority - 2 Dollars note
The International Bank Note Society (IBNS) has chosen Bermuda's $2 note, issued as part of an entirely new series in 2009, as the Banknote of 2009. Each year the IBNS recognizes an exceptional banknote issued in the previous year and, from nine very impressive nominations issued in 2009, the Bermuda $2 note was a clear winner.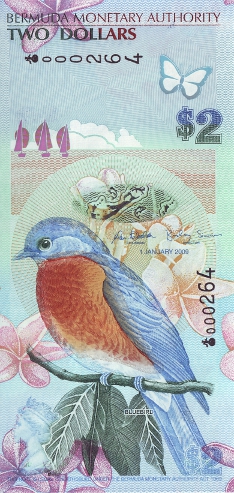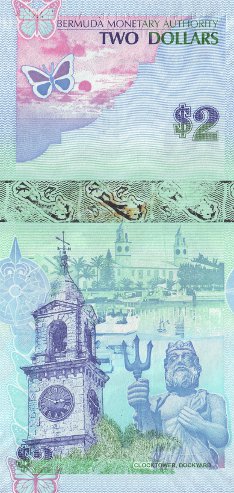 The award-winning note portrays the Bermuda Bluebird (Sialia sialis) on the front and the Dockyard Clock Tower and Statue of Neptune on the back. As with all notes in the new Bermuda series, the head of HM Queen Elizabeth II appears in a reduced format on the front of the note, the portrait being a mirror of the Machin Head design which appears on the postage stamps of the Royal Mail.
The members of the IBNS Board, who chose the winning note, considered the Bermuda $2 note an example of the most attractive elements which create interest among the ever-widening community of banknote collectors and those who take an interest in the development of paper money. They said the combination of colours were appealing and blended well throughout all components of the design. Additionally, the range of items depicted on the note were attractively presented and allowed the eye to linger and to search for natural and historical design elements which were not immediately apparent.
One of the factors recommending the note to the judges was an interesting array of security features, despite its low face value. These include an Optiks™ embedded metallic thread, with an aperture on the front depicting the island; a Hibiscus watermark on the top section on the front; the Cornerstone™—a watermark feature on the four corners of the note enhancing the durability of the banknote; and, on the back, the Gemini™ feature portraying a compass which fluoresces in two colours under UV light.
Manufactured by De La Rue and released as part of a new series by the Bermuda Monetary Authority in February 2009, the series was the first major re-design of Bermudian banknotes for 40 years. The object of the series was to present depictions of Bermuda, with the series reflecting the natural beauty of the flora and fauna of the island on one side and the island's architectural heritage on the other.
Working from a detailed brief from the Bermuda Monetary Authority, the initial concept designs for the series were created by Gene Bothwick, one of De La Rue's long-serving designers, who retired in 2007 after 23 years of service. These concepts were then developed for production by the De La Rue banknote Preliminaries Department with input and guidance from the Monetary Authority.
The IBNS congratulates the Bermuda Monetary Authority and De La Rue on an exceptional banknote.
---
---