The IBNS Book of the Year for 2008
(For a book published in 2007)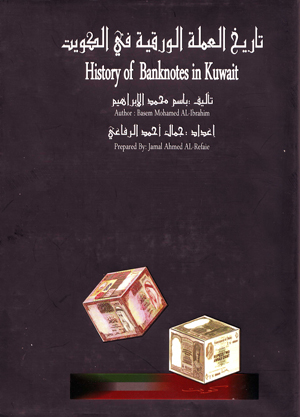 The History of Banknotes in Kuwait by Basem Mohamed Al-Ibrahim, this year's winner of the International Bank Note Society's Book of the Year Award, is a fine example of how to make a lot out of a little. Kuwait has one of the least extensive note issues among the countries listed in the Standard Catalogue of World Paper Money. It boasts just thirty catalogue varieties, even including two "not legal tender" issues, which have questionable credentials for inclusion. Yet author Basem Mohamed Al-Ibrahim, a long-time collector and researcher of Kuwaiti numismatics, has managed to produce a wonderfully illustrated volume of 424 pages, in both Arabic and English. He achieves this in part by doing just as the title says – covering the history of the use of banknotes in Kuwait, not just the banknotes issued by Kuwait itself. Fully half the book deals in great detail with the bills of exchange and cheques that were precursors to the issue of Kuwaiti currency and then with banknotes from India that were used up until the issue of the first local currency in 1961 by the Kuwait Currency Board.
The book provides considerable detail on the Indian issues that were used in Kuwait, starting with the first paper money to be used there in 1915. Except in the later Indian issues produced for use in the Gulf States, it is not possible to distinguish particular Indian notes that were used in the then British colony. However, the various note types used by the Kuwaiti administration are noted, described in considerable detail and illustrated with generally very good colour photographs. The use of Indian notes continued after 1947, when India gained its independence from Britain, until they were withdrawn along with the issue of the first Kuwait notes.
Then follows, in considerable detail, the history of each variety of Kuwaiti dinar issued since 1961. There is much data on signatures, prefixes and watermark varieties. Much of this information has been publish previously, but has not been brought together so comprehensively. That is not to say that there is not a considerable amount of fascinating new information as well. There is a revealing section on replacement notes which were not generally known. As well, there are illustrations of many colour trials and specimens which likely have not been published previously.
Clearly this book is the culmination of many years of work. It provides a wealth of information to the specialist collector of Kuwaiti – and Indian – paper money, as well as offering a very attractive addition to the library of the more general collector. The book has been produced with the financial support of a number of major organizations involved in Kuwait. Its breadth of information and quality production make it a worthy recipient of the IBNS Book of the Year Award.