The IBNS Book of the Year for 2007
(For a book published in 2006)
The IBNS has awarded its 2007 "Book of the Year," for a book published in 2006, to Norske Pengesedler med Svalbard og Bjørnøya 1695-2005 (Norwegian Banknotes with Spitsbergen and Bear Island). Written by Karl Sæthre and Hans-Gunnar Eldorsen, the 304-page award-winning publication is published by Bergens Mynt og SeddelForretning AS.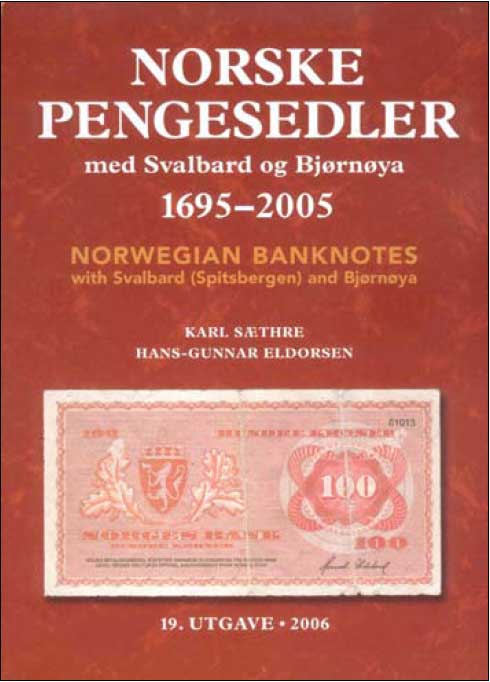 Norwegian Banknotes is in its 19th edition and it shows the polished maturity of a publication that has been around for many years. Indeed, the current edition could easily be a model on which a catalogue of banknotes might be written for any country. There are so many positive aspects to this publication that collectors who are not familiar with the book will be immediately pleased on opening the pages.
Firstly, almost all aspects of the publication are written in English and Norwegian, apart from some introductory remarks, which immediately gives the work a currency beyond Norway. Secondly, all illustrations are in colour, a common enough practice these days, but always a welcome sight to collectors who have struggled with black-and-white images for so many years. Thirdly, and most importantly, the layout of the entry for each note is well thought out and is undoubtedly the result of many years of work and rework.
Not only is Norwegian Banknotes a catalogue and price guide, it contains the history of the notes it describes, with all the detail that a beginner or an advanced collector would desire. Each note has a descriptive heading, a reference number, dates of issue, and signatures, below which is illustrated the front and back (if appropriate) of the banknote. Below the images is a description of the paper and the front and back of the banknote. Comments, varieties, serial number types, and other variety determinants are described where appropriate. While the inclusion of detailed descriptions and comments may seem sensible, there are some banknote catalogues that are little more than checklists with values - with authors assuming their readers know the details of the varieties from another source.
For each banknote and for every variety described in this work, there is a price guide in seven grades, priced in Norwegian kroner. Where a reference can be given against Krause's Standard Catalog of World Paper Money it is identified, greatly assisting collectors who have been using the omnibus work to establish their collection. A thoughtful addition is a checkbox at the beginning of each row so that collectors can check the items they have in their collection, or those they need.
The front cover of the 19th edition shows one of two notes that have only recently surfaced. These notes and other notes that have been recently recorded show how successful Norwegian Banknotes has been, in that it has a strong base of interested collectors who take the time to submit discoveries. Importantly, the authors take time to incorporate the new additions. The motto of the book could almost be "While I live, I grow," as part of this book's value is that it is not only the result of years of dedicated work by the authors, but also years of contributions by its readers.
It is expected that the 19th edition of Norwegian Banknotes will not be the last, but that future editions will extend the fine reputation this volume already owns. The International Bank Note Society congratulates the authors and publisher on an enduring accomplishment and wishes them every success in their future endeavours.