The IBNS Book of the Year for 2005
(For a book published in 2004)
The International Bank Note Society (IBNS) has awarded their annual 'Book of the Year' to The Egyptian Banknote by Eng. Magdy Hanafy. In citing this work for the 2005 award, for a book published during 2004, the IBNS Awards Committee noted the quality of the book's production, the comprehensive data within the volume, and the attention to detail.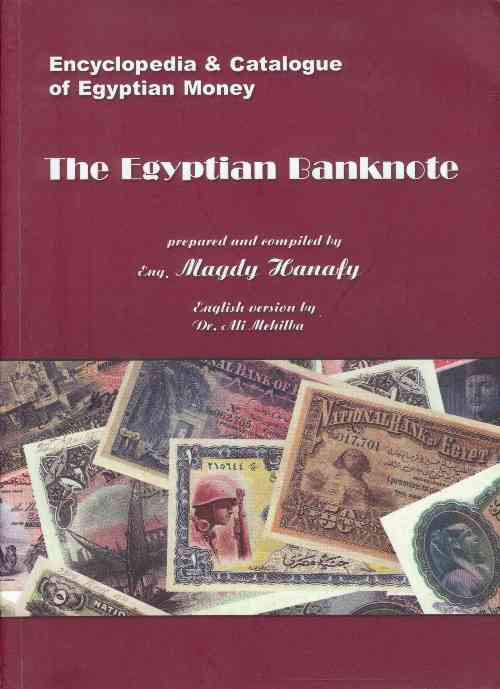 Books concerned specifically with banknotes have become more common as paper money collectors become more numerous and the need for detailed information becomes more demanding. Not only are such books becoming more common, but the quality of the books is improving as each year passes. The Egyptian Banknote is proof of these advances in the quality of information and the presentation of the data.
Printed in Arabic and English, The Egyptian Banknote was prepared and compiled by Eng. Magdy Hanafi, with the English text written by Dr. Ali Mehilba. Printed in full colour, the volume contains abundant illustrations of the notes, with depictions of every type of banknote produced by the National Bank of Egypt and its successor the Central Bank of Egypt. (Five- and ten-piastre notes produced by the Egyptian Treasury are not included in this work.) The landmark volume contains profuse illustrations of varieties and details from various notes, along with a smattering of trials, proofs and specimens.
The study covers all signatures by each bank governor in detail and there are short biographies and portraits of each governor. Also covered are watermarks, security threads, and ultraviolet features, along with clearly presented details of scenes depicted on the notes, dimensions of the notes, and signature varieties. A pricing guide allows readers to determine the relative costs of the notes. While the book is one of the most comprehensive of its type, specialist collectors of Egyptian banknotes will be amazed to find charts containing all prefix, date, and signature combinations for all issues, along with calculations of the number of notes produced. Quite simply, this superb effort leaves nothing to the imagination.
At over 350 pages in large format (29 x 21 cm), this volume will be at home on the bookshelf of any self-respecting collector and it is certainly the definitive work on Egyptian banknotes. It represents the level of scholarly research, patience, and attention to detail to which all students of paper money aspire. As a Society formed to promote collecting, research, and education in all matters relating to paper money, the IBNS is particularly pleased that both authors are members of the Society and the Society heartily congratulates them on the receipt of a valued award that has been bestowed over many years.