The IBNS Book of the Year for 2004
(For a book published in 2003)
At the Annual General Meeting of the International Bank Note Society (IBNS) held at Memphis on 12 June 2004, the IBNS awarded its prestigious 2003 'Book of the Year' to T.F.A. van Elmpt's British Military Authority Occupation Currency 1942 - 1956, Europe and North Africa.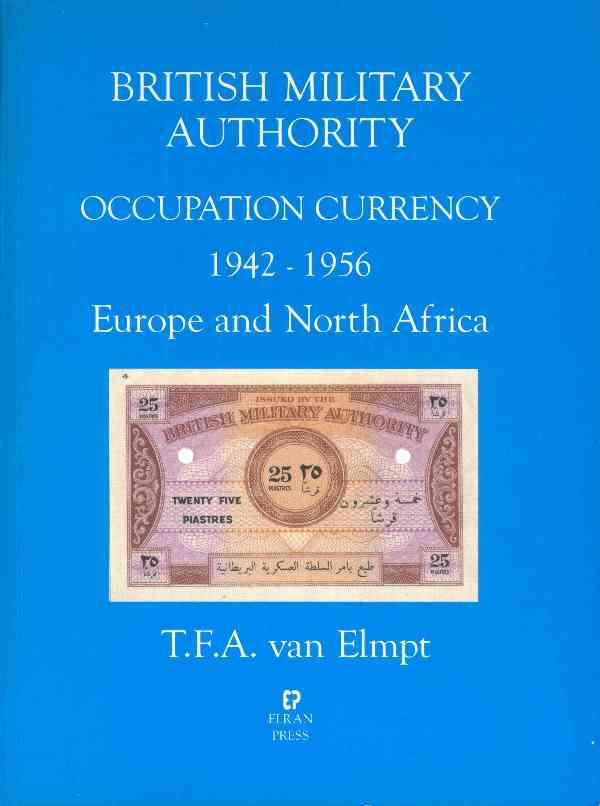 In June each year the IBNS awards its 'Book of the Year' to a work published during the previous year. The winning entry is adjudged to be the best volume to present new research and information on the topic it addresses. Significantly, the topic must relate to paper money.
The IBNS desires to encourage research and study into all facets of paper money and this award is part of its effort to promote these interests. While the award carries no monetary advantage to the winning author, there is significant kudos associated with the award and recipients are justifiably proud of the attention that this award brings them.
The author of the book receiving the award does not have to be a member of the IBNS, although it is often the case that they are members of the Society. While paper money collecting is a relatively small hobby, and the number of collectors for a specific interest may be extremely small, there are is a steady flow of publications becoming available to collectors.
Collecting paper money associated with the military is one area of bank note collecting that is extremely popular, with some notable works already published. In his award-winning work, T.F.A. van Elmpt takes up the task of recording the history of notes issued by the British Military Authority during and after World War II. Divided into two principal sections, the work commences with a study of the various issues made from 1942 to 1956, giving accounts of where the notes were used, or campaigns for which they were prepared, plus details of the numbers of notes that were printed and shipped. Records of interesting exchanges between the War Office, the Bank of England, the Treasury and officers in the field are included in the study and add to the intriguing recollection of the preparation and issue of the notes.
The study is followed by a catalogue that lists fine detail of each variety of each note, including numbers issued, rarity and value. Every note mentioned in the study is reproduced in full colour. With over 480 pages, the book leaves nothing to the imagination, although the author does admit that there are areas he addresses where the full facts are yet to emerge.
In making the award, the IBNS recognizes the time and effort invested by the author and the rewarding results achieved. It is hoped that many similar works will contend for the 2004 award, which will be made in 2005.