IBNS Journal 52-2
Volume 52 Issue 2 is now available from members to download. Articles cover Jordan's Currency, Reserve Bank of India, Bangladesh, Rhodesia and many others. Login to download your copy.
Table of Contents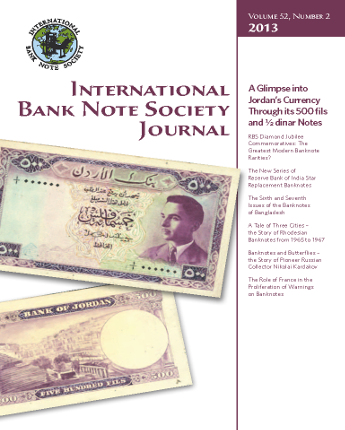 10
A glimpse into Jordan's Currency Through its 500 fils and 1/2 dinar notes
18
RBS Diamond Jubilee Commemoratives: The Greatest Modern Banknote Rarities?
20
The New Series of Reserve Bank of India Star Replacement Banknotes
24
The Sixth and Seventh Issues of the Banknotes of Bangladesh
41
A Tale of Three Cities – the Story of Rhodesian Banknotes from 1965 to 1967
47
Banknotes and Butterflies – the Story of Pioneer Russian Collector Nikolai Kardakov
50
The Role of France in the Proliferation of Warnings on Banknotes
66
News From The Chapters
72
IBNS Board Meeting Minutes
75
Society Officers and Directors
---
---